Peace of Mind
There are devices and services that we strongly recommend that will protect your family and your home.

Line Voltage Surge Protector
This Surge Protector helps protect your most expensive appliance from lighting and electrical surge up to 25,000 volts. This won't stop a direct lightning strike, but saves your circuit boards from derogatory and often daily surges you cannot see! 240 volt single phase.
---
Easy Trap Safety Switch
The Easy Trap attaches to the a/c condensate drain-line discharge. It shuts off the system in the event of a clogged condensate drain line to prevent flooding, mold and mildew growth. This device discourages termites by not allowing often hidden wet areas to continue unnoticed. This simple device saves you from countless gallons of moisture that would damage your structure and furnishings!
---

Purge Device (3-N-1 Valve)
For your condensate drain line at the air handler, this device allows a prophylaxis treatment. It is simply an area to add warm soapy water or a mixed solution of bleach and water. It also provides easy access for you to keep the drain line free and clear. The Purge Device is directionally purge-able and also allows directional use of a shop vacuum rated for water removal. Avoid paying for emergency calls by using this device regularly.
---

Wet Switch
This device shuts off the a/c system when it senses any moisture. It can be mounted in a variety of places. This functions like the Easy Trap above, but is a secondary and wise investment in case water gets past the 1st safety device. Discounts are available if installing the Easy Trap Safety Switch and Wet Switch or Easy Trap Safety Switch, Wet Switch, and Ez-clear 3-way clean out valve.
---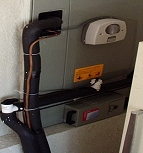 "Honeywell" (U.V.) Ultra-violet Light. Coil Plus Irradiation Model
Ultraviolet Air Treatment Systems zap airborne germs and prevent mold spore growth on air conditioning coils. They kill most germs before the re-circulate. This model kills up to 99.9% of surface mold that could otherwise thrive on your systems cooling coils. No dangerous ozone is produced by UV-C lamps.
---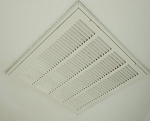 Return Air Filter Back Grille
These grills make filter access easy for monthly services. Having the primary filter at the inlet of return plenum or air handler base keeps the return plenum cleaner. A secondary filter in air handler also keeps the evaporator coil cleaner. Using 2-filters is allowable, if the proper combination of filters is used. Never use two pleated filters, never use 5" media type and a 1" pleated filter as this causes excessive static pressure in the air handler. Includes one filter with installation.
---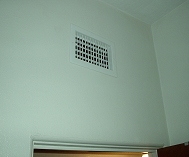 Supply Air Grills
These grills are designed to cast the air 75% of the way across the room. Many homes use stamped supply grilles, or dilapidated adjustable grilles, without gaskets where the grille meets the ceiling or wall board. This causes poor casting of the conditioned air, or worse yet, through venturi effect, infiltration from the hot or cold attic air. Furthermore, you are pulling every contaminant out of your attic and into your furnishings, cooling coils and duct system. The worst part of course is that your family is breathing dust, debris, and any pesticides that were used in the attic, not to mention what is floating in the exterior of the home air supply. We install only quality grills with adjustable louvers for proper cast and air circulation in heating or cooling mode, which are also gasketed and well sealed to the wall or ceiling.
---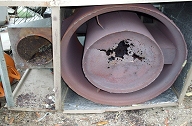 CO Detector (oil or gas furnace)
This is a must to protect your family from carbon monoxide poisoning. A leaking heat exchanger can easily spread carbon monoxide throughout your entire home, and you would not necessarily be aware of the presence of the poisonous gases. Don't take the chance, as the owner of the system shown here did. They nearly lost their lives!
---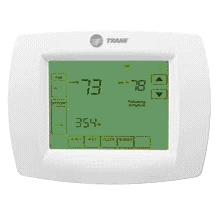 Thermostat
Digital and programmable thermostats are available for precise comfort and energy efficiency. Pre-condition your home before you arrive, or raise the temperature after you leave. Stop wasting energy when you are not there to enjoy it! It's your energy bill, take control of it! Ask about our touch screen comfort control!
---

Dehumidistat
A dehumidistat controls the a/c by humidity instead of temperature while you are away. Temperature settings don't always represent humidity. Thermostats can cycle off, with excessive humidity still present. Older non-variable speed air handling systems or systems that don't dehumidify well, may reach appropriate temperature, with damaging humidity levels still present and attacking your home clothing and furnishings. Protect your investments with this device.
*** Recommended for seasonal residents ***
---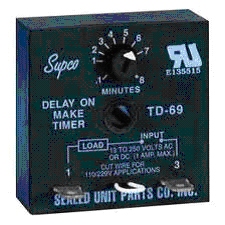 Compressor Protector
This is a solid state time delay device. After power fluctuations, or short cycling conditions, this device delays the restarting of the system, protecting your a/c compressor. This device extends the compressor life and its reliability.
---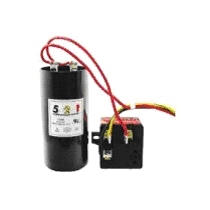 Compressor Hard Start Assembly
The Hard Start re-starts your compressor by overcoming typical resistance to start-up. In neighborhoods with frequent power fluctuation or loss, this can save your compressor. The device offers longer compressor life, reduced electrical consumption on start up, helps to overcome brown-out, power fluctuations and short cycling conditions.
---
Preferred Customer Service Agreement
You wouldn't run your vehicle without servicing it, your a/c system should also be serviced, or it to can fail at the most unexpected and inconvenient times. For our "Preferred Customers" we offer a scheduled maintenance program. This includes two visits per year, no charge for service calls and discounts on any parts and repairs that are needed.
---




Indoor Air Quality/Air Handler Cleaning
The most important component in you're a/c system air flow is contained in an enclosed area that is rarely seen, unless you have a maintenance inspection by a true professional.

This is the most neglected equipment because it is hard to access and must be inspected from the top and bottom. Some homeowners would be shocked to see what is in the air stream they breathe. Remember, the inside of your air handler is a dark, cold, wet atmosphere! This is perfect for the growth of mold, mildew, bacteria and viruses.

We clean and sanitize the evaporator coil, drain pan, drain line, interior surfaces, and blower wheel. This restores the system's efficiency as well as healthier air to breathe.
---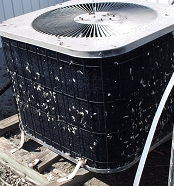 Condenser Coil Cleaning
This service increases the efficiency of your split a/c or heat pump "outside coil." Sadly, many homeowners' dryer vent discharge, roof discharge, or other ground level condition, contaminates the condenser coil. This is an important area to properly transfer heat from your home, in the summer and with heat pumps in the winter. Without proper transfer from refrigerants to air, your system will be extremely inefficient, causing energy waste and higher electricity consumption. We clean the coil with coil cleaner, brush the coil, fin comb out any bent fins where possible, and flush the coil with clean water. Difficulty can be minimum to difficult, depending on accessibility, and the condition of coil. If badly corroded, coil cleaning is not recommended, replacement is suggested.
---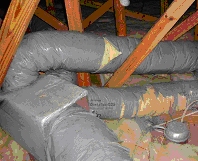 Duct Systems
Your duct system is probably the most overlooked part of your a/c system. Let's face it, without a duct system, there would be no air blowing through your home. We provide many services for your duct system, including:
Duct repairs and replacement
Duct system design, installations, upgrades, zone dampers.
Air Balancing