Circuit Breaker Tripping Off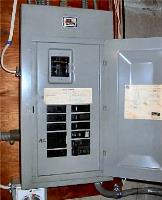 A circuit breaker is designed to trip off when too much power travels through the wire it protects. There are three common reasons circuit breakers trip off:
A short circuit
An over-current or overloaded circuit
The circuit breaker is broken
Resetting a Breaker
Very firmly push the handle to the full "off" position and then firmly click it to "on". If the breaker allows you to reset it, try to determine why the breaker tripped in the first place (See three causes above.)
If the breaker tripped because of an overloaded circuit (use of space heater, hairdryer, microwave) adjust your use of appliances which are heavy users. Find new circuits for them or have new circuits installed for heavy users. This can be done with our professional help.
Occasionally, a breaker will trip because it is "going bad." It will not generally let you reset it and should be replaced.
Short Circuits
A short circuit is an accidental connection allowing an electrical current to flow in a different path from the one intended. A short circuit will immediately cause one of your circuit breakers to trip off or one of your fuses to blow. To troubleshoot a short circuit, determine what was happening just before the electricity stopped. If you had just plugged something into a receptacle (outlet) or turned on a light or an appliance, then this gives you a clue as to what just caused the short. Unplug the offending appliance or light and then re-set the circuit breaker or replace the fuse. If everything is now OK, then your electrical system is fine and consider replacing the appliance that caused the circuit to break.
If, however, you can't find anything plugged in which is causing the problem, then it's time to call us to locate and repair your short circuit.
Over-currents
Overloaded circuits (over-currents) occur when too much power is running through an electrical wire. To protect the wire, the circuit breaker does its job by detecting the overload and tripping off. The solution to this problem is to remove some of the things that are connected to the overloaded wires and add another set of wires to bring power to them. For this, you'll need a good electrician.
Broken Circuit Breaker
Sometimes circuit breakers just wear out and need to be replaced. A knowledgeable homeowner with electrical skills can do the job. Otherwise, call us at the phone number at the top of our site.
---
© Online-Access